Now if there was a quest chain that I found to be a lot of work, it was The Prophecy of Akida. In those series of quests, I had to learn the language of the Stillpine furbolgs to help them reclaim Stillpine Hold. To complete the quest, I had to find four totems (Totem of Coo, Totem of Tikti, Totem of Yor and Totem of Vark) located in different parts of Azuremyst Isle. Along the way I encountered a lot of aggressive NPC's. At one point, I was even simultaneously attacked by at least three of them. Needless to say, it was the second time I died in the game.
I've hit level 65 recently and have noticed my leveling speed drop really fast, I knew this would happen but I'm just looking for ways to become a little more efficient with questing. Right now I'm zipping all over the place without much idea on what to do first. Would this ruin the gaming experience though? (I'm still planning on reading all the quests for story). Or is there any alternatives with a lower price tag?. Also is Zygor guides actually any good? And lastly, (sorry for all the questions) is using it going against WoW rules?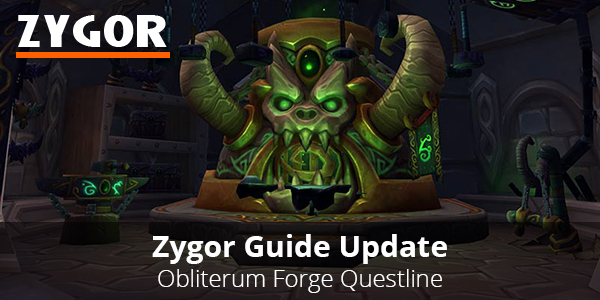 We push multiple alpha versions to Curse on an average day, these versions may contain important new features or bug fixes for the bleeding edge raid content... These versions are tagged as alpha, so they will not be downloaded by default. Set your Curse client to update to alpha if you want these latest versions (but they may contain bugs, downloads tagged as "Beta" or "Release" are more stable)
Since the latest update, my map display no longer shows where I have been. If I turn on a mini-map add-on in addition to Zygor, it will show up just fine on the mini-map yet not on the full size map. Otherwise, with only Zygor or with Zygor + other add-ons, it will only show wayshrines as having been discovered. Everything works fine without Zygor. I'd like to keep Zygor if possible but I am clueless about how to fix this issue. Anyone have any ideas?
I wouldn't buy Zygor guides. As a player since path 1.10 (around 7 years now) Ive seen a hearty wow community flourish through each expansion. I am a huge fan of the add on, Carbonite quest. It provides a pumped up version of wow's internal quest database. Also, its recommended to research your servers economy for making gold. http://www.powerwordgold.net/ is a great site for tricks of making gold. Pair it up with http://www.theunderminejournal.com and you'll be on your way to making fast gold to provide for all them alts :P

You can tell the gold guide users on the AH though. When you are posting things up, if you are the only one and you put it up for say 1000g. Next time you go to post it might tell you to put it up for 1050g, then 1100g. Then 1200g. etc, ad naseum. It doesn't stay the stay it keeps adding the price till it is WAY out of whack with anything reasonable. Still it's pretty good for posting up stuff so long as you know the price already. 

A handful of us donated to Whoknowsit to so he could buy ALL the upgraded guides for MoP for all of us. That was an investment into THIS community not into torrents or into any other. We want it to remain safe for us to continue to use. Whoknowsit is smart enough to know what to look for to take out Zygors' tracking info, but he knows he is NOT perfect. That is why he is STILL careful.
TSM v4.6.1 has been released! If you are running the TSM Desktop Application (and have TSM4 installed), you will be automatically updated momentarily. Otherwise, you can download directly from our site here: https://www.tradeskillmaster.com/install (or wait for it to show on CurseForge/Twitch – which may take a few hours). Changes * Added a new "baseitem" keyword which can be used as a price source paramater in custom prices (i.e. "dbmarket(baseitem)") * Made some optimizations to group-based Shopping scans to not scan items with invalid max prices * When posting via Shopping, you can now easily change the variation of the item being posted * Linking an item into shopping will now prompt you to sell that variant by default when posting * Multiline edit boxes will now scroll with the cursor to make it easier to edit large strings * Fixed a bunch of issues with relationships across operation settings * Fixed disenchanting rates for scaled items * Fixed an issue where WoW would freeze while using various TSM UIs * Fixed various issues with using the Banking UI to move items in and out of the guild bank * Fixed a bug with importing while "Moved already grouped items" was disabled * Fixed a bug where importing a list of items was creating a new "Imported Items" group * Fixed a few issues caused by the recently-mapped global prices * Fixed a minor typo in the tooltip settings UI Known Issues http://support.tradeskillmaster.com/display/KB/TSM4+Currently+Known+Issues read more
Leveling you character is very complicated process in world of warcraft. Many players need several month or even years to get to level 70. But what if you don't want to waste all your time playing wow so much but you still want to get to level 70 and be better than your wow friends or enemies? Than you should use special wow leveling guides which will help you to get to level 70 as fast as possible. That's why I picked up Zygor Guide so that I could maximize my efficiency while leveling, so that I can keep up with friends who have more time to play. In this article I will tell you more about this guide and its main features.

A lot of different types of addons are doing exactly the same thing. For example, Cross Realm Assist was an cross realm addon but in fact it is an LFG addon with its own UI. Serverhop and WQGF were doing exactly the same thing from program logic perspective. Even Badboy as a chat filter addon would filter LFG spamming. The idea behind BlockChinese could actually be used for premade groups as well. There is no point for people to install so many different addons for doing the exactly the same thing. These features should share the same code base and work together.