I keep waiting for updates the last one was the begining of Oct and the next was supposed to be the begining of this month. Now we are close to the end of the month and nothing. The bugs were never fixed, the guild will revert itself to quests completed. Just sort of holding our collective breath. Can we please get a bug fix and update soon please? I know there was BlizzBon and a WHOLE lot of new updates but there have been patchs and a ton of stuff. Please!!!
The part you need to understand too, is that the Zygor addon doesn't use an App like TSM to update many times per day your auction value. When i bought the gold guide i remember that i didn't understand much either, the results were random and from items i can't make much gold with. It just scans the auction house based on their most recent value update which can be days and days ago.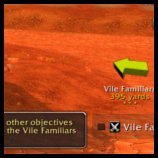 Then I made my way inside the cave in Stillpine Hold to complete the last half of the quests: inspect the blood crystals, kill Chieftain Oomooroo, the 9 Crazed Wildkin, and The Kurken. Only it took me a while to get to the cave. I didn't know the quest was inside the cave so I tried using the waypoint to find the location, but it directed me on the other side of the mountain. Which was quite far from the cave.
Well. LFG is designed to replace blizzard's premade groups entirely just like custom raid frame addons (like grid, grid2, healbot) did towards blizzard's compact raid addon. We can actually do little customization towards Blizzard's UI unless we write our own "UI". Instead, just use LFG to create/search groups instead of blizzard's UI since it sucks.
Difference was... Whoknowsit, wasn't doing that. It was the other way around there. He has a legit ZG account that he originally paid for and then a group of donators here chipped in and helped upgrade for MoP. His account, against his and the donators' wishes, fed the torrents recently which was proven. The donations he asked for was to help pay for hosting that he was paying for to host the site/project he was making for this community to share ZG and more in partnership with others, so he didn't have to worry about mediafire or other filesharing sites taking down the files.
I only subscribed about 2 days ago after coming back to WoW after 6 years. The game has changed so much since I left right around the Cata release. I decided to start fresh on a new server. I still had all my old links and logins to places like Curse, WowInterface, etc. Loaded up all the addons I had favorited years ago (of the maybe 1/3rd that were still maintained). Got to level 20 in a few hours of playing. Had to look a bunch of stuff up.
Edit: the version from wow-curse seems to be a trial. To get the real one u have to download it from http://wow-pro.com/. Then u will not find un unzip or extract all option, but u get a link further on their page to a windows page that informs u of 2 ways to unzip. So i learned that u can also unzip by double clicking on the folder. For certainty i double clicked on every folder i could find, and then put the whole bunch into interface/addons in WoW. And it works ok now.
A lot of different types of addons are doing exactly the same thing. For example, Cross Realm Assist was an cross realm addon but in fact it is an LFG addon with its own UI. Serverhop and WQGF were doing exactly the same thing from program logic perspective. Even Badboy as a chat filter addon would filter LFG spamming. The idea behind BlockChinese could actually be used for premade groups as well. There is no point for people to install so many different addons for doing the exactly the same thing. These features should share the same code base and work together.
Ragefire Chasm- won't be able to enter it till level 15 I believe. If this is your first horde toon though I'd honestly recommend leveling with the quest and without heirlooms or a guide. For me personally I've never gotten attached to a character who I spammed dungeons with and normally I quit them around 60 because I can't be bothered with the toon anymore. Can only kill so many loot piñatas before I get sick of it.
Now if there was a quest chain that I found to be a lot of work, it was The Prophecy of Akida. In those series of quests, I had to learn the language of the Stillpine furbolgs to help them reclaim Stillpine Hold. To complete the quest, I had to find four totems (Totem of Coo, Totem of Tikti, Totem of Yor and Totem of Vark) located in different parts of Azuremyst Isle. Along the way I encountered a lot of aggressive NPC's. At one point, I was even simultaneously attacked by at least three of them. Needless to say, it was the second time I died in the game.
To make sure you are not threaten by the dangerous virus infection, you should get a professional way to check the virus infection on your computer, and remove all of them once detected. A professional antivirus program will be a good choice to scan and remove viruses. And there are plenty of free antivirus programs available on the internet such as Avira Free Antivirus which share good reputation, here is a quick instruction to teach you how to manage such virus issue.
If you want to get rid of all of registries left on the program removal and don't want your Windows system is fill with redundant registries that someday may affect the system performance, you should perform a registry scan and clean with a sophisticated registry optimizer, it will help you clean all the useless and corrupted registry files on the system.
That's where the Zygor guide came in handy. There was a mini Zygor viewer within the game that broke down the steps in the quest so I'd be able to accomplish it easier. Do you notice the yellow arrow at the top of the heads of Norciandra and the draenei Proenitus? Well, it's the "waypoint" and whenever I clicked on the quest in the viewer, it pointed me to a particular path and showed how far or close I was to the quest. It turned green whenever I was on the right track and yellow when I tried to head to different directions.
You can tell the gold guide users on the AH though. When you are posting things up, if you are the only one and you put it up for say 1000g. Next time you go to post it might tell you to put it up for 1050g, then 1100g. Then 1200g. etc, ad naseum. It doesn't stay the stay it keeps adding the price till it is WAY out of whack with anything reasonable. Still it's pretty good for posting up stuff so long as you know the price already.
I'd rather not have to manually re-do all the settings for all my addons in-game unless it's absolutely necessary (since I don't have memorized what the exact settings are I use, so I'd have to take screenshots of them all and then remake the settings to match the screenshots). So I'd rather get some more input about this problem before I try troubleshooting it that way.
The waypoint directed me down the path to where plenty of aggressive enemies lurked around. After killing a bunch of them (successfully stayed alive this time!) and circling around with my moth, I wasn't able to find any pet to battle with and complete the quest by the trainor. The Zygor viewer couldn't provide a clear tutorial on that either, so I had to abandon it. 

Level your hero. You need to start leveling him from the moment you have 2-3 units. This isn't necessary. If you have KotG, DH, BM, FS, or AM you don't even have to wait for units. However, with the help of units, your hero can very easily overcome creeps. Among players there is a certain understanding – creeping. Creeping is the destruction of neutral units in order to gain experience. If you kill a creep you earn gold. A gold number and a plus sign will appear on the screen. Sometimes, you need to kill them in order to earn more gold for building purposes.
A handful of us donated to Whoknowsit to so he could buy ALL the upgraded guides for MoP for all of us. That was an investment into THIS community not into torrents or into any other. We want it to remain safe for us to continue to use. Whoknowsit is smart enough to know what to look for to take out Zygors' tracking info, but he knows he is NOT perfect. That is why he is STILL careful.