A few years ago a wow promotion came out that gave you a FoS for leveling a character from 1 to 20. So i started leveling a Horde rogue since i'd never played Horde (and i've played since vanilla), and the fun I had experiencing the "other" side was super fun and nice and I actually saw a lot of cool stuff and actually sorta-kinda got that old "vanilla" feel of exploring things for the first time.
I have a problem since the new patch gone live today. The markers on the map like villages, delves, anchors, bosses are missing (I use addon for skyshards and lorebooks, they are good). When i disable the addon and reload my UI all these listed markers are back. And when I turn back the addon, the markers are gone again. Don't know if only I have this problem, but if this is a common thing or a whole new problem, I wanted to report it, maybe someone can help me.

So far it seems like the guides direct you to the easiest/best way to get stuff done. The waypoints they use are better than some other places because it tells you how to get to a certain place rather than saying "Go to X place" it says "Go out of the building and down the path" then once you do those things it says "Go kill X mob Y mob and Z mob until you have A items". It has given some pointers too for an area it was like "If you kill a lava thing it gives you a buff so you can walk on the lava" so it tells you to kill some lava things (JC quest in WoD)
I've hit level 65 recently and have noticed my leveling speed drop really fast, I knew this would happen but I'm just looking for ways to become a little more efficient with questing. Right now I'm zipping all over the place without much idea on what to do first. Would this ruin the gaming experience though? (I'm still planning on reading all the quests for story). Or is there any alternatives with a lower price tag?. Also is Zygor guides actually any good? And lastly, (sorry for all the questions) is using it going against WoW rules?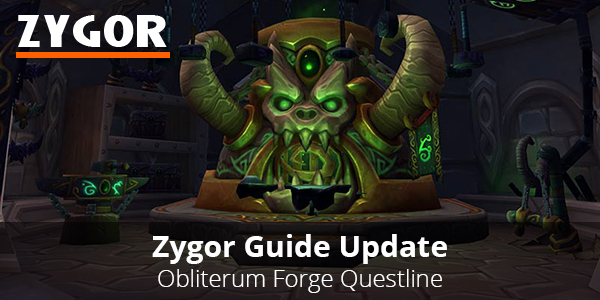 I only subscribed about 2 days ago after coming back to WoW after 6 years. The game has changed so much since I left right around the Cata release. I decided to start fresh on a new server. I still had all my old links and logins to places like Curse, WowInterface, etc. Loaded up all the addons I had favorited years ago (of the maybe 1/3rd that were still maintained). Got to level 20 in a few hours of playing. Had to look a bunch of stuff up.