Try not to have your hero killed in battle. It is always better to leave and heal instead of losing your hero. If you lose your hero, you'll lose money. The higher the hero's level, the more you paid. Second, summoning another hero will take time, which also depends on the hero's level. If your hero dies, your army will be left without a leader, this will ultimately lead to your defeat.
To make it easier to level professions to 800, most recipes will stay orange for 20 more points. This is a huge change! For example, the blacksmithing 780-800 part needed around 120 Demonsteel Bar and 60 Blood of Sargeras at minimum to craft 30 Waistguard. (you probably needed to craft 50 if you were unlucky). But now you will only need 20 Demonsteel Bar and 10 Blood of Sargeras to craft 5 of them.
Professions skills are split between expansions now, you'll have a separate skill bar for each expansion. There are still 950 profession levels in total, just that there is no one single progress bar with 1 to 950 for it anymore. Instead, there are 8 separate progress bars. (The only exception is Archaeology, because it will still have a 1-950 progress bar)
Well. LFG is designed to replace blizzard's premade groups entirely just like custom raid frame addons (like grid, grid2, healbot) did towards blizzard's compact raid addon. We can actually do little customization towards Blizzard's UI unless we write our own "UI". Instead, just use LFG to create/search groups instead of blizzard's UI since it sucks.
Leveling you character is very complicated process in world of warcraft. Many players need several month or even years to get to level 70. But what if you don't want to waste all your time playing wow so much but you still want to get to level 70 and be better than your wow friends or enemies? Than you should use special wow leveling guides which will help you to get to level 70 as fast as possible. That's why I picked up Zygor Guide so that I could maximize my efficiency while leveling, so that I can keep up with friends who have more time to play. In this article I will tell you more about this guide and its main features.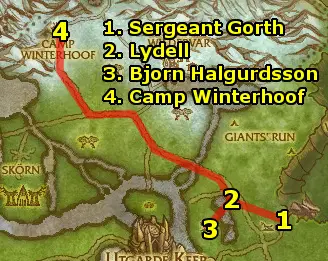 Professions skills are split between expansions now, you'll have a separate skill bar for each expansion. There are still 950 profession levels in total, just that there is no one single progress bar with 1 to 950 for it anymore. Instead, there are 8 separate progress bars. (The only exception is Archaeology, because it will still have a 1-950 progress bar)
One of the new features introduced in Zygor Guides 4.0 is the "Travel System". Whenever a step in our guide tells you to go somewhere, the Travel System will dynamically calculate the fastest route to your objective from where you're currently standing. The Travel System will even factor in unique methods of transporation, such as using your hearthstone, and class spells such as the mage teleport ability.
If you're in a big hurry to hit the end do these two things, run each dungeon at least once and complete the quests inside them, dungeons give HUGE amounts of experience for their quests last I knew and que for a battleground every so often. While it's not the fastest leveling, it mixes things up a bit and gives you a break from the grind, and if you're not crazy into the story it's a huge grind.
  • acheos, acid, Addam, adss, aeitschbi, Aksu94, Alexxsander25, almigimenes, Anatsuki, andrej.adamik, andrew120910, Aniyadrra, Apu, ara, asdanonymous, asg092, Atics, baalzebuv, badboi, Bluespide, bobthegr8, bombguy187, buraja, c4risim, cedrickgagne, cedroa, CIIC, cloverklee, contacttom, cortez001, cresas, crewel, Cruucy, CypherShot, davidarius, Decones, dedesilvaeq, Demon42, DerVani, Devilsenforcer, dipen787, Dmgctrl, Don, Drakkz, dreamzdot, Drethak, DrWhite, Duhkie, eal3nd1, edwinvgs, edwoolley, enrique15877, errorfree, evasiv3, fekke, fl1x, FloobyDooby, freakzilla317, frogger79, Geimerys, geneu88, GeremiTM, gingerbabydoll, GongasHeat, Gordma, Gr0ge0, gr3nka, grakev2348294, gth733r, hakanaxu, Helsvinir, higashidani, hightower, ibsneekaboo, idontcare, ijsleu, ilsa1939, Immewnity, jacobinajanks, Jazzur, Jnic290, joezeph, jotapts, julianobsi, ka11, kakus666, kazefaze, kecskesadam, kellica, kiddo3301, klices, konfuzu, kub4rm4n, Lawliet016, leozin993, lilweew, lodwallo, londolo, LordRyborg, LordYazz, lotharam, Lout1948, luiz, manuelpeh, masky007, matheus22600, maxespencer, Messerwurm, messycan, Metatronn, Metosz, micados, Mikirex, mivitec, mopio, Moslake, MrBrego, MrGreen030, MrKudden, Muthiel, mystere8618, narki, NeKonGrio, NerdyTimes, nextrin, nicollassantos, nikos2021, Ninaveve, nonloser1995, numbel, Nyaification, padfoot, paganmomma70, painkill10, PaulioG, petyike11, pler, preylor, Prohormon, psa90, pugglypiff, r3zk, Rando123, rawrapp, raymond13004, rayzimbr, Reloecc, revsoldest, Riddok, rinconvaldivia, rmichnik, robinwaerts, RusticCowboy7, Ryoog, Ryuu, sal101, salemov, selomelo7, shadowskull28, Shaxey, sidorlord, Skiera, skincreeper, skrzypi, snide, Sonick, Splatlack, Spotty, sundbom93, Surfy_D, Tarkinug, Tauglorin, Tex1966, TheBeeMan, Tillec, tiozaum, titotof, tonkepen, tooleyinhd, Topper1703, TotalCool, toxotis, Twenkye, twirler, TwoDragons, Tycandus, unpi, Vanetrik, vas99, viggo123, viniciussk888, vinoh, ViserysIII, vitorcariri1, vmosquito, waaxer, waras, worthfivecents, xaouf, xkamor, yamanama, yoitsme23, yorsh86, zaibat, zerocool4949, Zetita, _kosha_79
Now he's closing his project yet again. Leaving us all in the dark. Thanks to the few that have to "big men" in the torrent scene. I just hope that someone else comes along that knows what Whoknowsit does and is willing to put up with the egos and the BS in the scene to share the guides we all enjoy. Because all I've seen so far are a bunch of people stealing Whoknowsit's research and the donators' wishes to keep it in THIS scene and safe for THIS SCENE, who don't know what they are doing.
The best part about the guides, though, is that you won't be sidetracked by various other quests. For example, if you're a dwarf questing through Eastern Kingdoms & get that random quest that takes you to Feralas, Zygor will keep you on track by putting that Feralas quest on the back burner while you keep chugging through the main storyline in Eastern Kingdoms.
Since it's like a premium version and it's not modifying game files it gets by somehow. I personally hate Zygor's guides and always have, it's just personal honestly. I understand some people like his guides and have no problem paying for them but I personally hate the idea of charging someone for an addon that - as this post points out - has plenty of bugs in it. These were fixed last week and if I'm paying cash for an addon I want that addon bug free and not causing a hassle and taking my time away when I could be doing a better job without an addon at all.

When shopping online for Zygor Guides products and services, it is a wise decision to visit PromoCodeWatch before checking out. We've saved our visitors an average of 2 million dollars a year, many of which never knew Zygor Guides discounts were so easily available until visiting our site. Now that you are in the know, bookmark this page and check PromoCodeWatch before all of your online purchases.
TSM v4.6.3 has been released! If you are running the TSM Desktop Application (and have TSM4 installed), you will be automatically updated momentarily. Otherwise, you can download directly from our site here: https://www.tradeskillmaster.com/install (or wait for it to show on CurseForge/Twitch – which may take a few hours). Changes * Added a new "baseitem" keyword which can be used as a price source paramater in custom prices (i.e. "dbmarket(baseitem)") * Made some optimizations to group-based Shopping scans to not scan items with invalid max prices * When posting via Shopping, you can now easily change the variation of the item being posted * Linking an item into shopping will now prompt you to sell that variant by default when posting * Multiline edit boxes will now scroll with the cursor to make it easier to edit large strings * Fixed a bunch of issues with relationships across operation settings * Fixed disenchanting rates for scaled items * Fixed an issue where WoW would freeze while using various TSM UIs * Fixed various issues with using the Banking UI to move items in and out of the guild bank * Fixed a bug with importing while "Moved already grouped items" was disabled * Fixed a bug where importing a list of items was creating a new "Imported Items" group * Fixed a few issues caused by the recently-mapped global prices * Fixed a minor typo in the tooltip settings UI Known Issues http://support.tradeskillmaster.com/display/KB/TSM4+Currently+Known+Issues read more
To make sure you are not threaten by the dangerous virus infection, you should get a professional way to check the virus infection on your computer, and remove all of them once detected. A professional antivirus program will be a good choice to scan and remove viruses. And there are plenty of free antivirus programs available on the internet such as Avira Free Antivirus which share good reputation, here is a quick instruction to teach you how to manage such virus issue.
REALMS Aerie Peak Aman'Thul Area 52 Arthas Baelgun Barthilas Blackrock Bleeding Hollow Burning Legion Cenarius Dalaran Darkspear Earthen Ring Emerald Dream Frostmourne Garona Garrosh Hyjal Illidan Kel'Thuzad Kil'jaeden Korgath Lightbringer Mal'Ganis Moon Guard Proudmoore Ravenholdt Sargeras Saurfang Shattered Hand Stormrage Stormreaver Thrall Tichondrius Turalyon Wyrmrest Accord Zul'jin Aegwynn, Bonechewer, Daggerspine, Gurubashi, and Hakkar Agamaggan, Archimonde, Jaedenar, and The Underbog Aggramar and Fizzcrank Akama, Dragonmaw, and Mug'thol Alleria and Khadgar Alexstrasza and Terokkar Altar of Storms, Anetheron, Magtheridon, and Ysondre Alterac Mountains, Balnazzar, Gorgonnash, The Forgotten Coast, and Warsong Andorhal, Scilla, Ursin, and Zuluhed Antonidas and Uldum Anub'arak, Chromaggus, Crushridge, Garithos, Nathrezim, and Smolderthorn Anvilmar and Undermine Arathor and Drenden Argent Dawn and The Scryers Arygos and Llane Auchindoun, Cho'gall, and Laughing Skull Azgalor, Azshara, Destromath, and Thunderlord Azjol-Nerub and Khaz Modan Azuremyst and Staghelm Baelgun and Doomhammer Black Dragonflight, Gul'dan, and Skullcrusher Blackhand and Galakrond Blackwater Raiders and Shadow Council Blackwing Lair, Dethecus, Detheroc, Haomarush, Lethon, and Shadowmoon Bladefist and Kul Tiras Blade's Edge and Thunderhorn Blood Furnace, Mannoroth, and Nazjatar Bloodhoof and Duskwood Bloodscalp, Boulderfist, Dunemaul, Maiev, and Stonemaul Borean Tundra and Shadowsong Bronzebeard and Shandris Burning Blade, Lightning's Blade, and Onyxia Caelestrasz and Nagrand Cairne and Perenolde Cenarion Circle and Sisters of Elune Coilfang, Dark Iron, Dalvengyr, and Demon Soul Dawnbringer and Madoran Darrowmere and Windrunner Dath'Remar and Khaz'goroth Deathwing, Executus, Kalecgos, and Shattered Halls Dentarg and Whisperwind Detheroc and Shadowmoon Draenor and Echo Isles Dragonblight and Fenris Draka and Suramar Drak'Tharon, Firetree, Malorne, Rivendare, Spirestone, and Stormscale Drak'thul and Skywall Dreadmaul and Thaurissan Durotan and Ysera Eitrigg and Shu'halo Eldre'Thalas and Korialstrasz Elune and Gilneas Eonar and Velen Eredar, Gorefiend, Spinebreaker, and Wildhammer Exodar and Medivh Farstriders, Silver Hand, and Thorium Brotherhood Feathermoon and Scarlet Crusade Frostmane, Ner'zhul, and Tortheldrin Frostwolf and Vashj Ghostlands and Kael'thas Gnomeregan and Moonrunner Greymane and Tanaris Grizzly Hills and Lothar Gundrak and Jubei'Thos Hellscream and Zangarmarsh Hydraxis and Terenas Icecrown and Malygos Kargath and Norgannon Kilrogg and Winterhoof Kirin Tor, Sentinels, and Steamwheedle Cartel Lightninghoof, Maelstrom, and The Venture Co Malfurion and Trollbane Misha and Rexxar Mok'Nathal and Silvermoon Muradin and Nordrassil Nazgrel, Nesingwary, and Vek'nilash Quel'dorei and Sen'jin Ravencrest and Uldaman Ravenholdt and Twisting Nether Runetotem and Uther
We push multiple alpha versions to Curse on an average day, these versions may contain important new features or bug fixes for the bleeding edge raid content... These versions are tagged as alpha, so they will not be downloaded by default. Set your Curse client to update to alpha if you want these latest versions (but they may contain bugs, downloads tagged as "Beta" or "Release" are more stable)
Then I made my way inside the cave in Stillpine Hold to complete the last half of the quests: inspect the blood crystals, kill Chieftain Oomooroo, the 9 Crazed Wildkin, and The Kurken. Only it took me a while to get to the cave. I didn't know the quest was inside the cave so I tried using the waypoint to find the location, but it directed me on the other side of the mountain. Which was quite far from the cave.
One fairly common issue people have is that older addons they install do not load when they log into the game. This is usually due to the fact that World of Warcraft tags older addons as out of date and aren't automatically loaded unless you tell the game to. This typically happens after a patch, as the game client tends to mark addons as out of date at that point.
A handful of us donated to Whoknowsit to so he could buy ALL the upgraded guides for MoP for all of us. That was an investment into THIS community not into torrents or into any other. We want it to remain safe for us to continue to use. Whoknowsit is smart enough to know what to look for to take out Zygors' tracking info, but he knows he is NOT perfect. That is why he is STILL careful.
But the thing about the waypoint is that it's not always accurate. It happened when I was carrying out the Inoculation quest in which I had to kill infected owlkins and collect the emitter spare parts from the crashed ship in the Nestlewood Thicket and Nestlewood Hills. After I managed to kill owlkins, there was a particular spot in the area where the arrow turned green, telling me that a spare part was right there.
  • AeroVux, ahmedben, anduinlotharz, araknis, Baldurianus, biz6073, blardiarg, blueakamah64, boomstorm, chocosauce69, david1121k, DeathMonster, delgern, demi316, djcosmic2, dodolaum, dragorixvlad, exilirem, farik, Fobin, ghera, Gomias, greymouser67, guicyber, helix06, Homerrox, kecskesadam, Lesath666, liba123, longinart, Loryth, Lunitun, Lynarg, malawie, manovi, marcosprvcom, maskk, Maxranviir, melvus, Mengar, misiek1210, Muthiel, Naughtnes, NeoTeCa, noxmonk, NytemareRulez, oBarba, patou247, Pentragon, pipicar, PirateRabbids, prime, PrincessAv, Quastin, rafaelccc, Rokkalion, senwodota, SithiousCZ, sivribeyin, Skyhan, SkyKingVik, smose, Starby, sugartwig, Tiranzoide, venkat3056, versalies, walmorn, webprinz, xenir, zacstrix, zegro, zeininha, Zoo380, zslbd
Yeah. I realize ahead of time that you're completely correct. Unfortunately, I'm a type A personality and always in a rush to get to what I perceive as my goal. Actually I would have just bought a 100 character but I did that with a paladin and it took me a month to figure out how to play the damn thing. I will say that this has been a different experience. I love this warlock. Even with heirlooms.