It showed what items were on the rise, which ones were stagnant, and which ones were going down. I don't know how accurate it is since I am not familiar with my realms AH yet. I put some things on the AH with the Zygor suggested price and sold about 5k worth of stuff (I had a ton of MoP gems/herbs sitting around). I did use TSM suggestions as well and for the most part they seemed pretty close. But I did do an AH scan with Zygor before posting.
The next biggest  problem (after time) is deciding the format it should take.  It seems to me, these quests will mostly be done while running around doing world quests.  Since we can't  predict what order someone will have world quests show up in, it is impossible to decide what order to put the quests in.  Should it be one guide for all of Horde Kul Tiras and one for Alliance Zandalar, or one for each zone?
A lot of different types of addons are doing exactly the same thing. For example, Cross Realm Assist was an cross realm addon but in fact it is an LFG addon with its own UI. Serverhop and WQGF were doing exactly the same thing from program logic perspective. Even Badboy as a chat filter addon would filter LFG spamming. The idea behind BlockChinese could actually be used for premade groups as well. There is no point for people to install so many different addons for doing the exactly the same thing. These features should share the same code base and work together.
In order for our addon and it's community to thrive, we need people to visit our website, WoW-Pro.com. We provide a trial version here on Curse, but if you want our full addon you'll need to download it from our website, wow-pro.com. The addon and it's guides are still 100% FREE, you just need to download it there instead of here to get the full version.
There is another way to uninstall Zygor Guides Free Trial in addition to the manual removal - advanced program uninstall tool, which is more popular and easier to handle for many computer users. And the highlight is that if you encounter some problems during the manually program removal, the professional uninstaller also can help you resolve the removing problem on your PC
TSM v4.6.3 has been released! If you are running the TSM Desktop Application (and have TSM4 installed), you will be automatically updated momentarily. Otherwise, you can download directly from our site here: https://www.tradeskillmaster.com/install (or wait for it to show on CurseForge/Twitch – which may take a few hours). Changes * Added a new "baseitem" keyword which can be used as a price source paramater in custom prices (i.e. "dbmarket(baseitem)") * Made some optimizations to group-based Shopping scans to not scan items with invalid max prices * When posting via Shopping, you can now easily change the variation of the item being posted * Linking an item into shopping will now prompt you to sell that variant by default when posting * Multiline edit boxes will now scroll with the cursor to make it easier to edit large strings * Fixed a bunch of issues with relationships across operation settings * Fixed disenchanting rates for scaled items * Fixed an issue where WoW would freeze while using various TSM UIs * Fixed various issues with using the Banking UI to move items in and out of the guild bank * Fixed a bug with importing while "Moved already grouped items" was disabled * Fixed a bug where importing a list of items was creating a new "Imported Items" group * Fixed a few issues caused by the recently-mapped global prices * Fixed a minor typo in the tooltip settings UI Known Issues http://support.tradeskillmaster.com/display/KB/TSM4+Currently+Known+Issues read more
Disclaimer: While we work to ensure that product information is correct, on occasion manufacturers may alter their ingredient lists. Actual product packaging and materials may contain more and/or different information than that shown on our Web site. We recommend that you do not solely rely on the information presented and that you always read labels, warnings, and directions before using or consuming a product. For additional information about a product, please contact the manufacturer. Content on this site is for reference purposes and is not intended to substitute for advice given by a physician, pharmacist, or other licensed health-care professional. You should not use this information as self-diagnosis or for treating a health problem or disease. Contact your health-care provider immediately if you suspect that you have a medical problem. Information and statements regarding dietary supplements have not been evaluated by the Food and Drug Administration and are not intended to diagnose, treat, cure, or prevent any disease or health condition. Amazon.com assumes no liability for inaccuracies or misstatements about products.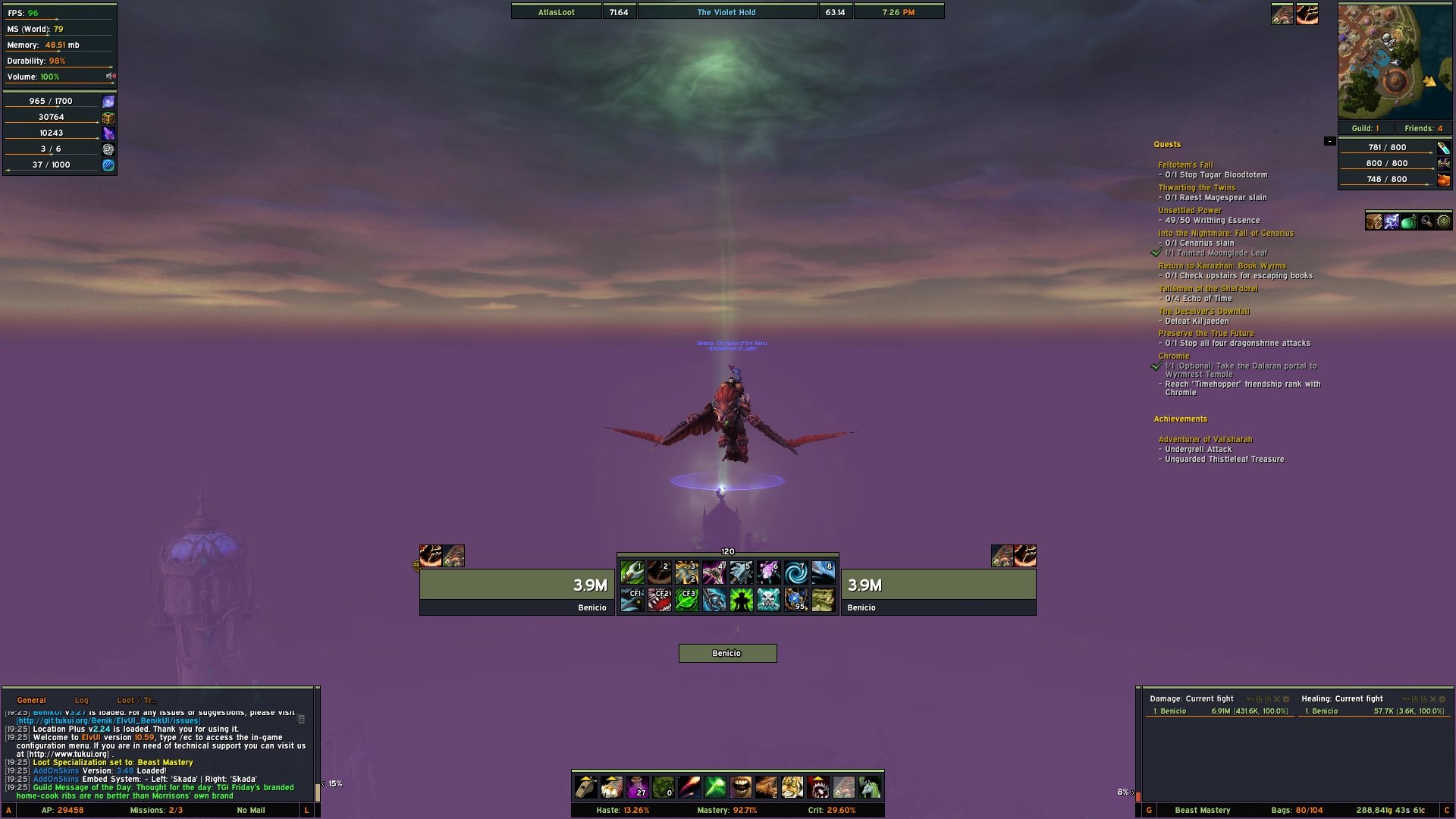 AddOns (sometimes called addons, add-ons, or mods) are collections of Lua/XML code that augment, modify, or replace World of Warcraft's default user interface. Addons vary greatly in scope and size — they may display information not presented at all by the default UI, add functionality to the default UI (e.g. additional buttons you can press to do things), modify the default UI's appearance (e.g. by changing colors or positions of UI elements) without changing its functionality, or even replace the default UI entirely.
  • AeroVux, ahmedben, anduinlotharz, araknis, Baldurianus, biz6073, blardiarg, blueakamah64, boomstorm, chocosauce69, david1121k, DeathMonster, delgern, demi316, djcosmic2, dodolaum, dragorixvlad, exilirem, farik, Fobin, ghera, Gomias, greymouser67, guicyber, helix06, Homerrox, kecskesadam, Lesath666, liba123, longinart, Loryth, Lunitun, Lynarg, malawie, manovi, marcosprvcom, maskk, Maxranviir, melvus, Mengar, misiek1210, Muthiel, Naughtnes, NeoTeCa, noxmonk, NytemareRulez, oBarba, patou247, Pentragon, pipicar, PirateRabbids, prime, PrincessAv, Quastin, rafaelccc, Rokkalion, senwodota, SithiousCZ, sivribeyin, Skyhan, SkyKingVik, smose, Starby, sugartwig, Tiranzoide, venkat3056, versalies, walmorn, webprinz, xenir, zacstrix, zegro, zeininha, Zoo380, zslbd
I've isolated the issue to BanditUserInterface/BUI_MiniMap.lua lines 173, 174 within the function BUI.MiniMap.Show(). When Bandit sets up the minimap, it looks like this method makes a global call that effectively imposes itself over every other Addon including the Zygor guide. And if I'm not mistaken, the main map itself dubs as the mini-map, which may explain why it's constantly appearing.
That's where the Zygor guide came in handy. There was a mini Zygor viewer within the game that broke down the steps in the quest so I'd be able to accomplish it easier. Do you notice the yellow arrow at the top of the heads of Norciandra and the draenei Proenitus? Well, it's the "waypoint" and whenever I clicked on the quest in the viewer, it pointed me to a particular path and showed how far or close I was to the quest. It turned green whenever I was on the right track and yellow when I tried to head to different directions.
Edit: the version from wow-curse seems to be a trial. To get the real one u have to download it from http://wow-pro.com/. Then u will not find un unzip or extract all option, but u get a link further on their page to a windows page that informs u of 2 ways to unzip. So i learned that u can also unzip by double clicking on the folder. For certainty i double clicked on every folder i could find, and then put the whole bunch into interface/addons in WoW. And it works ok now.
  • acheos, acid, Addam, adss, aeitschbi, Aksu94, Alexxsander25, almigimenes, Anatsuki, andrej.adamik, andrew120910, Aniyadrra, Apu, ara, asdanonymous, asg092, Atics, baalzebuv, badboi, Bluespide, bobthegr8, bombguy187, buraja, c4risim, cedrickgagne, cedroa, CIIC, cloverklee, contacttom, cortez001, cresas, crewel, Cruucy, CypherShot, davidarius, Decones, dedesilvaeq, Demon42, DerVani, Devilsenforcer, dipen787, Dmgctrl, Don, Drakkz, dreamzdot, Drethak, DrWhite, Duhkie, eal3nd1, edwinvgs, edwoolley, enrique15877, errorfree, evasiv3, fekke, fl1x, FloobyDooby, freakzilla317, frogger79, Geimerys, geneu88, GeremiTM, gingerbabydoll, GongasHeat, Gordma, Gr0ge0, gr3nka, grakev2348294, gth733r, hakanaxu, Helsvinir, higashidani, hightower, ibsneekaboo, idontcare, ijsleu, ilsa1939, Immewnity, jacobinajanks, Jazzur, Jnic290, joezeph, jotapts, julianobsi, ka11, kakus666, kazefaze, kecskesadam, kellica, kiddo3301, klices, konfuzu, kub4rm4n, Lawliet016, leozin993, lilweew, lodwallo, londolo, LordRyborg, LordYazz, lotharam, Lout1948, luiz, manuelpeh, masky007, matheus22600, maxespencer, Messerwurm, messycan, Metatronn, Metosz, micados, Mikirex, mivitec, mopio, Moslake, MrBrego, MrGreen030, MrKudden, Muthiel, mystere8618, narki, NeKonGrio, NerdyTimes, nextrin, nicollassantos, nikos2021, Ninaveve, nonloser1995, numbel, Nyaification, padfoot, paganmomma70, painkill10, PaulioG, petyike11, pler, preylor, Prohormon, psa90, pugglypiff, r3zk, Rando123, rawrapp, raymond13004, rayzimbr, Reloecc, revsoldest, Riddok, rinconvaldivia, rmichnik, robinwaerts, RusticCowboy7, Ryoog, Ryuu, sal101, salemov, selomelo7, shadowskull28, Shaxey, sidorlord, Skiera, skincreeper, skrzypi, snide, Sonick, Splatlack, Spotty, sundbom93, Surfy_D, Tarkinug, Tauglorin, Tex1966, TheBeeMan, Tillec, tiozaum, titotof, tonkepen, tooleyinhd, Topper1703, TotalCool, toxotis, Twenkye, twirler, TwoDragons, Tycandus, unpi, Vanetrik, vas99, viggo123, viniciussk888, vinoh, ViserysIII, vitorcariri1, vmosquito, waaxer, waras, worthfivecents, xaouf, xkamor, yamanama, yoitsme23, yorsh86, zaibat, zerocool4949, Zetita, _kosha_79
The next biggest  problem (after time) is deciding the format it should take.  It seems to me, these quests will mostly be done while running around doing world quests.  Since we can't  predict what order someone will have world quests show up in, it is impossible to decide what order to put the quests in.  Should it be one guide for all of Horde Kul Tiras and one for Alliance Zandalar, or one for each zone?
REALMS Aerie Peak Aman'Thul Area 52 Arthas Baelgun Barthilas Blackrock Bleeding Hollow Burning Legion Cenarius Dalaran Darkspear Earthen Ring Emerald Dream Frostmourne Garona Garrosh Hyjal Illidan Kel'Thuzad Kil'jaeden Korgath Lightbringer Mal'Ganis Moon Guard Proudmoore Ravenholdt Sargeras Saurfang Shattered Hand Stormrage Stormreaver Thrall Tichondrius Turalyon Wyrmrest Accord Zul'jin Aegwynn, Bonechewer, Daggerspine, Gurubashi, and Hakkar Agamaggan, Archimonde, Jaedenar, and The Underbog Aggramar and Fizzcrank Akama, Dragonmaw, and Mug'thol Alleria and Khadgar Alexstrasza and Terokkar Altar of Storms, Anetheron, Magtheridon, and Ysondre Alterac Mountains, Balnazzar, Gorgonnash, The Forgotten Coast, and Warsong Andorhal, Scilla, Ursin, and Zuluhed Antonidas and Uldum Anub'arak, Chromaggus, Crushridge, Garithos, Nathrezim, and Smolderthorn Anvilmar and Undermine Arathor and Drenden Argent Dawn and The Scryers Arygos and Llane Auchindoun, Cho'gall, and Laughing Skull Azgalor, Azshara, Destromath, and Thunderlord Azjol-Nerub and Khaz Modan Azuremyst and Staghelm Baelgun and Doomhammer Black Dragonflight, Gul'dan, and Skullcrusher Blackhand and Galakrond Blackwater Raiders and Shadow Council Blackwing Lair, Dethecus, Detheroc, Haomarush, Lethon, and Shadowmoon Bladefist and Kul Tiras Blade's Edge and Thunderhorn Blood Furnace, Mannoroth, and Nazjatar Bloodhoof and Duskwood Bloodscalp, Boulderfist, Dunemaul, Maiev, and Stonemaul Borean Tundra and Shadowsong Bronzebeard and Shandris Burning Blade, Lightning's Blade, and Onyxia Caelestrasz and Nagrand Cairne and Perenolde Cenarion Circle and Sisters of Elune Coilfang, Dark Iron, Dalvengyr, and Demon Soul Dawnbringer and Madoran Darrowmere and Windrunner Dath'Remar and Khaz'goroth Deathwing, Executus, Kalecgos, and Shattered Halls Dentarg and Whisperwind Detheroc and Shadowmoon Draenor and Echo Isles Dragonblight and Fenris Draka and Suramar Drak'Tharon, Firetree, Malorne, Rivendare, Spirestone, and Stormscale Drak'thul and Skywall Dreadmaul and Thaurissan Durotan and Ysera Eitrigg and Shu'halo Eldre'Thalas and Korialstrasz Elune and Gilneas Eonar and Velen Eredar, Gorefiend, Spinebreaker, and Wildhammer Exodar and Medivh Farstriders, Silver Hand, and Thorium Brotherhood Feathermoon and Scarlet Crusade Frostmane, Ner'zhul, and Tortheldrin Frostwolf and Vashj Ghostlands and Kael'thas Gnomeregan and Moonrunner Greymane and Tanaris Grizzly Hills and Lothar Gundrak and Jubei'Thos Hellscream and Zangarmarsh Hydraxis and Terenas Icecrown and Malygos Kargath and Norgannon Kilrogg and Winterhoof Kirin Tor, Sentinels, and Steamwheedle Cartel Lightninghoof, Maelstrom, and The Venture Co Malfurion and Trollbane Misha and Rexxar Mok'Nathal and Silvermoon Muradin and Nordrassil Nazgrel, Nesingwary, and Vek'nilash Quel'dorei and Sen'jin Ravencrest and Uldaman Ravenholdt and Twisting Nether Runetotem and Uther