That's where the Zygor guide came in handy. There was a mini Zygor viewer within the game that broke down the steps in the quest so I'd be able to accomplish it easier. Do you notice the yellow arrow at the top of the heads of Norciandra and the draenei Proenitus? Well, it's the "waypoint" and whenever I clicked on the quest in the viewer, it pointed me to a particular path and showed how far or close I was to the quest. It turned green whenever I was on the right track and yellow when I tried to head to different directions.
It showed what items were on the rise, which ones were stagnant, and which ones were going down. I don't know how accurate it is since I am not familiar with my realms AH yet. I put some things on the AH with the Zygor suggested price and sold about 5k worth of stuff (I had a ton of MoP gems/herbs sitting around). I did use TSM suggestions as well and for the most part they seemed pretty close. But I did do an AH scan with Zygor before posting.
You can tell the gold guide users on the AH though. When you are posting things up, if you are the only one and you put it up for say 1000g. Next time you go to post it might tell you to put it up for 1050g, then 1100g. Then 1200g. etc, ad naseum. It doesn't stay the stay it keeps adding the price till it is WAY out of whack with anything reasonable. Still it's pretty good for posting up stuff so long as you know the price already. 

Leveling you character is very complicated process in world of warcraft. Many players need several month or even years to get to level 70. But what if you don't want to waste all your time playing wow so much but you still want to get to level 70 and be better than your wow friends or enemies? Than you should use special wow leveling guides which will help you to get to level 70 as fast as possible. That's why I picked up Zygor Guide so that I could maximize my efficiency while leveling, so that I can keep up with friends who have more time to play. In this article I will tell you more about this guide and its main features.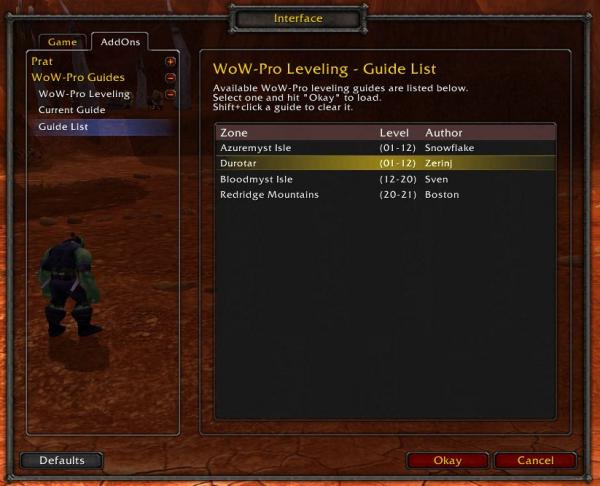 In order for our addon and it's community to thrive, we need people to visit our website, WoW-Pro.com. We provide a trial version here on Curse, but if you want our full addon you'll need to download it from our website, wow-pro.com. The addon and it's guides are still 100% FREE, you just need to download it there instead of here to get the full version.
Heroes of the Storm League of Legends World of Tanks Top 10 F2P-MMORPGs/MMOs Top 10 MOBAs Top MMO-Shooter Die besten Battle-Royale-Spiele Alternativen zu Blizzard-Spielen Hack'n'Slay: Die besten Diablo-Klone Die besten Survival-Games Releaseliste MMO 2018 Spiele-Enttäuschungen 2017 Spiele-Top-10 des Jahres 2017 MMO-Friedhof 2017 Spiele-Wünsche für 2018
It's all in the game. It also has a way to select what kind of leveling you want (professions, rep, titles, achievements, etc) and it auto loads. I noticed it skipped a lot of quests that I had already done "out of order". So it went from step 20--->33 or something when it saw I had done whatever. Also there are several options for the guide and how it looks/operates.
People are never going to learn that sites like Zygor Guides, Dugi, and other premium site actively search out accounts that leak and share the guides and close them down thus cutting off OUR SOURCE OF CURRENT UPDATES! They use methods much like Whoknowsit did by embedding an encrypted tag somewhere with your username or account number so they can trace the leak back to the account. Just as Whoknowsit did.
Now if there was a quest chain that I found to be a lot of work, it was The Prophecy of Akida. In those series of quests, I had to learn the language of the Stillpine furbolgs to help them reclaim Stillpine Hold. To complete the quest, I had to find four totems (Totem of Coo, Totem of Tikti, Totem of Yor and Totem of Vark) located in different parts of Azuremyst Isle. Along the way I encountered a lot of aggressive NPC's. At one point, I was even simultaneously attacked by at least three of them. Needless to say, it was the second time I died in the game.
A few years ago a wow promotion came out that gave you a FoS for leveling a character from 1 to 20. So i started leveling a Horde rogue since i'd never played Horde (and i've played since vanilla), and the fun I had experiencing the "other" side was super fun and nice and I actually saw a lot of cool stuff and actually sorta-kinda got that old "vanilla" feel of exploring things for the first time.
So far it seems like the guides direct you to the easiest/best way to get stuff done. The waypoints they use are better than some other places because it tells you how to get to a certain place rather than saying "Go to X place" it says "Go out of the building and down the path" then once you do those things it says "Go kill X mob Y mob and Z mob until you have A items". It has given some pointers too for an area it was like "If you kill a lava thing it gives you a buff so you can walk on the lava" so it tells you to kill some lava things (JC quest in WoD)