I've isolated the issue to BanditUserInterface/BUI_MiniMap.lua lines 173, 174 within the function BUI.MiniMap.Show(). When Bandit sets up the minimap, it looks like this method makes a global call that effectively imposes itself over every other Addon including the Zygor guide. And if I'm not mistaken, the main map itself dubs as the mini-map, which may explain why it's constantly appearing.

Besides registry cleaner, it is also necessary to perform a defrag for your computer hard drive regularly, which is not only a good way to optimize your computer system's structure, but also can help you clean those fragments created in the incomplete program removal. There is a specific computer defrag utility available on the Windows operating system that enables the computer user to perform a defrag for the computer disk, or you can choose a free third party defrag tool like Auslogics Disk Defrag that opimize your computer disk in a quicker and more effective way.
Since the latest update, my map display no longer shows where I have been. If I turn on a mini-map add-on in addition to Zygor, it will show up just fine on the mini-map yet not on the full size map. Otherwise, with only Zygor or with Zygor + other add-ons, it will only show wayshrines as having been discovered. Everything works fine without Zygor. I'd like to keep Zygor if possible but I am clueless about how to fix this issue. Anyone have any ideas?
I keep waiting for updates the last one was the begining of Oct and the next was supposed to be the begining of this month. Now we are close to the end of the month and nothing. The bugs were never fixed, the guild will revert itself to quests completed. Just sort of holding our collective breath. Can we please get a bug fix and update soon please? I know there was BlizzBon and a WHOLE lot of new updates but there have been patchs and a ton of stuff. Please!!!
Heroes of the Storm League of Legends World of Tanks Top 10 F2P-MMORPGs/MMOs Top 10 MOBAs Top MMO-Shooter Die besten Battle-Royale-Spiele Alternativen zu Blizzard-Spielen Hack'n'Slay: Die besten Diablo-Klone Die besten Survival-Games Releaseliste MMO 2018 Spiele-Enttäuschungen 2017 Spiele-Top-10 des Jahres 2017 MMO-Friedhof 2017 Spiele-Wünsche für 2018 

It's all in the game. It also has a way to select what kind of leveling you want (professions, rep, titles, achievements, etc) and it auto loads. I noticed it skipped a lot of quests that I had already done "out of order". So it went from step 20--->33 or something when it saw I had done whatever. Also there are several options for the guide and how it looks/operates.

A lot of different types of addons are doing exactly the same thing. For example, Cross Realm Assist was an cross realm addon but in fact it is an LFG addon with its own UI. Serverhop and WQGF were doing exactly the same thing from program logic perspective. Even Badboy as a chat filter addon would filter LFG spamming. The idea behind BlockChinese could actually be used for premade groups as well. There is no point for people to install so many different addons for doing the exactly the same thing. These features should share the same code base and work together.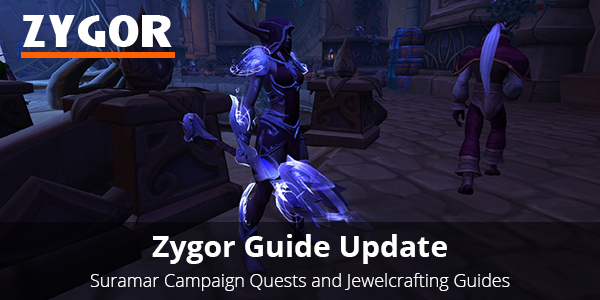 It showed what items were on the rise, which ones were stagnant, and which ones were going down. I don't know how accurate it is since I am not familiar with my realms AH yet. I put some things on the AH with the Zygor suggested price and sold about 5k worth of stuff (I had a ton of MoP gems/herbs sitting around). I did use TSM suggestions as well and for the most part they seemed pretty close. But I did do an AH scan with Zygor before posting.
People are never going to learn that sites like Zygor Guides, Dugi, and other premium site actively search out accounts that leak and share the guides and close them down thus cutting off OUR SOURCE OF CURRENT UPDATES! They use methods much like Whoknowsit did by embedding an encrypted tag somewhere with your username or account number so they can trace the leak back to the account. Just as Whoknowsit did.
The next biggest  problem (after time) is deciding the format it should take.  It seems to me, these quests will mostly be done while running around doing world quests.  Since we can't  predict what order someone will have world quests show up in, it is impossible to decide what order to put the quests in.  Should it be one guide for all of Horde Kul Tiras and one for Alliance Zandalar, or one for each zone?