Well. LFG is designed to replace blizzard's premade groups entirely just like custom raid frame addons (like grid, grid2, healbot) did towards blizzard's compact raid addon. We can actually do little customization towards Blizzard's UI unless we write our own "UI". Instead, just use LFG to create/search groups instead of blizzard's UI since it sucks.
Then I made my way inside the cave in Stillpine Hold to complete the last half of the quests: inspect the blood crystals, kill Chieftain Oomooroo, the 9 Crazed Wildkin, and The Kurken. Only it took me a while to get to the cave. I didn't know the quest was inside the cave so I tried using the waypoint to find the location, but it directed me on the other side of the mountain. Which was quite far from the cave.
No he's just not paying attention. The wanted quests are built into both the leveling guides and the "Zandalar Forever" achievement guide. They aren't in the rep guide because they are not repeatable and by the time you hit max level they should be done. You'll also notice the rep guide doesn't contain every single possible completable quest that rewards rep. It is designed to focus on repeatable objectives, world quests, large quest lines, and missions.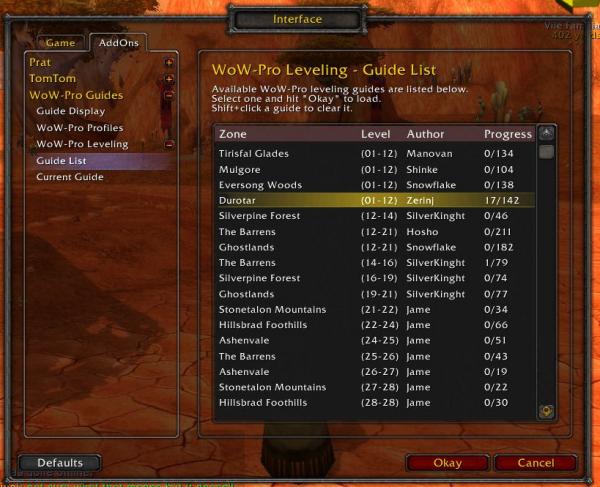 Some addons are standalone, and are able to run without any additional addons being installed; others can require certain other addons to be installed to work at all, or integrate with other addons to provide additional functionality. Collections of addons that have been put together to form a coherent user interface are sometimes referred to as UIs.
If you are looking for some solid information on fast leveling in wow and you want to plunk down the dollars, you should take a look at Zygor Guide. One of the first great features you notice is that this guide is available for both Alliance and Horde while other guides are horde or alliance only. That's why Zygor Guide sets itself apart from the crowd. The absolute best part of the guide is the map add-on. Once you have loaded up the mapmod, it makes it very easy to follow along with Zygor Guides in a step-by-step fashion. You won't need to press alt+tab aveytime you need to find your next step or coordinate. Everything is inside your game.
I recently decided the whole "make gold" thing is awesome...but I can't seem to wrap my head around what makes a good deal and what doesn't. After trying my hand at a few auctions I decided to do the zygor guides for leveling and rep and everything that's included (pretty cool so far...but if there's a free option I'd like to have that). Well they have a goldmaking guide. It updates data like TSM and tells you what is supposed to be the best deals to farm or whatever...well the best deal it was telling me was 8800 volatile fires. It was supposed to be an amazing deal but come on....8800 volatile fires?
Yeah. I realize ahead of time that you're completely correct. Unfortunately, I'm a type A personality and always in a rush to get to what I perceive as my goal. Actually I would have just bought a 100 character but I did that with a paladin and it took me a month to figure out how to play the damn thing. I will say that this has been a different experience. I love this warlock. Even with heirlooms.
It showed what items were on the rise, which ones were stagnant, and which ones were going down. I don't know how accurate it is since I am not familiar with my realms AH yet. I put some things on the AH with the Zygor suggested price and sold about 5k worth of stuff (I had a ton of MoP gems/herbs sitting around). I did use TSM suggestions as well and for the most part they seemed pretty close. But I did do an AH scan with Zygor before posting.
Professions skills are split between expansions now, you'll have a separate skill bar for each expansion. There are still 950 profession levels in total, just that there is no one single progress bar with 1 to 950 for it anymore. Instead, there are 8 separate progress bars. (The only exception is Archaeology, because it will still have a 1-950 progress bar)
We push multiple alpha versions to Curse on an average day, these versions may contain important new features or bug fixes for the bleeding edge raid content... These versions are tagged as alpha, so they will not be downloaded by default. Set your Curse client to update to alpha if you want these latest versions (but they may contain bugs, downloads tagged as "Beta" or "Release" are more stable)
Black Wow PRO is a fast-absorbing, easy-to-spread trim restorer that revives the original look to all exterior and interior painted, vinyl, rubber, and plastic surfaces. Black Wow PRO was formulated to give professional results in the comfort of your own garage. Black Wow PRO utilizes a more advanced formula compared to the tried-and-true Black WOW Trim Restorer, and promises to provide even longer-lasting results.
REALMS Aerie Peak Aman'Thul Area 52 Arthas Baelgun Barthilas Blackrock Bleeding Hollow Burning Legion Cenarius Dalaran Darkspear Earthen Ring Emerald Dream Frostmourne Garona Garrosh Hyjal Illidan Kel'Thuzad Kil'jaeden Korgath Lightbringer Mal'Ganis Moon Guard Proudmoore Ravenholdt Sargeras Saurfang Shattered Hand Stormrage Stormreaver Thrall Tichondrius Turalyon Wyrmrest Accord Zul'jin Aegwynn, Bonechewer, Daggerspine, Gurubashi, and Hakkar Agamaggan, Archimonde, Jaedenar, and The Underbog Aggramar and Fizzcrank Akama, Dragonmaw, and Mug'thol Alleria and Khadgar Alexstrasza and Terokkar Altar of Storms, Anetheron, Magtheridon, and Ysondre Alterac Mountains, Balnazzar, Gorgonnash, The Forgotten Coast, and Warsong Andorhal, Scilla, Ursin, and Zuluhed Antonidas and Uldum Anub'arak, Chromaggus, Crushridge, Garithos, Nathrezim, and Smolderthorn Anvilmar and Undermine Arathor and Drenden Argent Dawn and The Scryers Arygos and Llane Auchindoun, Cho'gall, and Laughing Skull Azgalor, Azshara, Destromath, and Thunderlord Azjol-Nerub and Khaz Modan Azuremyst and Staghelm Baelgun and Doomhammer Black Dragonflight, Gul'dan, and Skullcrusher Blackhand and Galakrond Blackwater Raiders and Shadow Council Blackwing Lair, Dethecus, Detheroc, Haomarush, Lethon, and Shadowmoon Bladefist and Kul Tiras Blade's Edge and Thunderhorn Blood Furnace, Mannoroth, and Nazjatar Bloodhoof and Duskwood Bloodscalp, Boulderfist, Dunemaul, Maiev, and Stonemaul Borean Tundra and Shadowsong Bronzebeard and Shandris Burning Blade, Lightning's Blade, and Onyxia Caelestrasz and Nagrand Cairne and Perenolde Cenarion Circle and Sisters of Elune Coilfang, Dark Iron, Dalvengyr, and Demon Soul Dawnbringer and Madoran Darrowmere and Windrunner Dath'Remar and Khaz'goroth Deathwing, Executus, Kalecgos, and Shattered Halls Dentarg and Whisperwind Detheroc and Shadowmoon Draenor and Echo Isles Dragonblight and Fenris Draka and Suramar Drak'Tharon, Firetree, Malorne, Rivendare, Spirestone, and Stormscale Drak'thul and Skywall Dreadmaul and Thaurissan Durotan and Ysera Eitrigg and Shu'halo Eldre'Thalas and Korialstrasz Elune and Gilneas Eonar and Velen Eredar, Gorefiend, Spinebreaker, and Wildhammer Exodar and Medivh Farstriders, Silver Hand, and Thorium Brotherhood Feathermoon and Scarlet Crusade Frostmane, Ner'zhul, and Tortheldrin Frostwolf and Vashj Ghostlands and Kael'thas Gnomeregan and Moonrunner Greymane and Tanaris Grizzly Hills and Lothar Gundrak and Jubei'Thos Hellscream and Zangarmarsh Hydraxis and Terenas Icecrown and Malygos Kargath and Norgannon Kilrogg and Winterhoof Kirin Tor, Sentinels, and Steamwheedle Cartel Lightninghoof, Maelstrom, and The Venture Co Malfurion and Trollbane Misha and Rexxar Mok'Nathal and Silvermoon Muradin and Nordrassil Nazgrel, Nesingwary, and Vek'nilash Quel'dorei and Sen'jin Ravencrest and Uldaman Ravenholdt and Twisting Nether Runetotem and Uther