Disable alpha versions in your Curse client if you do not want multiple updates per day. Make sure you check main download preference as well as DBM's individual download preference. You could have primary method set to release and dbm still set to alpha. Right click on DBM itself in curse client addon list and set it to release/beta to avoid the daily updates.
Well. LFG is designed to replace blizzard's premade groups entirely just like custom raid frame addons (like grid, grid2, healbot) did towards blizzard's compact raid addon. We can actually do little customization towards Blizzard's UI unless we write our own "UI". Instead, just use LFG to create/search groups instead of blizzard's UI since it sucks.
Leveling you character is very complicated process in world of warcraft. Many players need several month or even years to get to level 70. But what if you don't want to waste all your time playing wow so much but you still want to get to level 70 and be better than your wow friends or enemies? Than you should use special wow leveling guides which will help you to get to level 70 as fast as possible. That's why I picked up Zygor Guide so that I could maximize my efficiency while leveling, so that I can keep up with friends who have more time to play. In this article I will tell you more about this guide and its main features.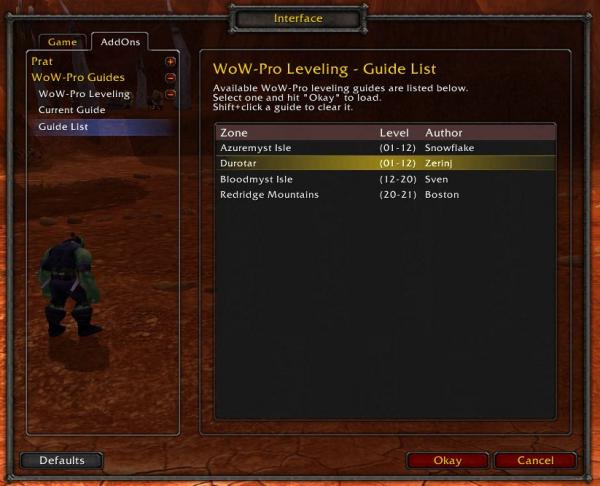 • acheos, acid, Addam, adss, aeitschbi, Aksu94, Alexxsander25, almigimenes, Anatsuki, andrej.adamik, andrew120910, Aniyadrra, Apu, ara, asdanonymous, asg092, Atics, baalzebuv, badboi, Bluespide, bobthegr8, bombguy187, buraja, c4risim, cedrickgagne, cedroa, CIIC, cloverklee, contacttom, cortez001, cresas, crewel, Cruucy, CypherShot, davidarius, Decones, dedesilvaeq, Demon42, DerVani, Devilsenforcer, dipen787, Dmgctrl, Don, Drakkz, dreamzdot, Drethak, DrWhite, Duhkie, eal3nd1, edwinvgs, edwoolley, enrique15877, errorfree, evasiv3, fekke, fl1x, FloobyDooby, freakzilla317, frogger79, Geimerys, geneu88, GeremiTM, gingerbabydoll, GongasHeat, Gordma, Gr0ge0, gr3nka, grakev2348294, gth733r, hakanaxu, Helsvinir, higashidani, hightower, ibsneekaboo, idontcare, ijsleu, ilsa1939, Immewnity, jacobinajanks, Jazzur, Jnic290, joezeph, jotapts, julianobsi, ka11, kakus666, kazefaze, kecskesadam, kellica, kiddo3301, klices, konfuzu, kub4rm4n, Lawliet016, leozin993, lilweew, lodwallo, londolo, LordRyborg, LordYazz, lotharam, Lout1948, luiz, manuelpeh, masky007, matheus22600, maxespencer, Messerwurm, messycan, Metatronn, Metosz, micados, Mikirex, mivitec, mopio, Moslake, MrBrego, MrGreen030, MrKudden, Muthiel, mystere8618, narki, NeKonGrio, NerdyTimes, nextrin, nicollassantos, nikos2021, Ninaveve, nonloser1995, numbel, Nyaification, padfoot, paganmomma70, painkill10, PaulioG, petyike11, pler, preylor, Prohormon, psa90, pugglypiff, r3zk, Rando123, rawrapp, raymond13004, rayzimbr, Reloecc, revsoldest, Riddok, rinconvaldivia, rmichnik, robinwaerts, RusticCowboy7, Ryoog, Ryuu, sal101, salemov, selomelo7, shadowskull28, Shaxey, sidorlord, Skiera, skincreeper, skrzypi, snide, Sonick, Splatlack, Spotty, sundbom93, Surfy_D, Tarkinug, Tauglorin, Tex1966, TheBeeMan, Tillec, tiozaum, titotof, tonkepen, tooleyinhd, Topper1703, TotalCool, toxotis, Twenkye, twirler, TwoDragons, Tycandus, unpi, Vanetrik, vas99, viggo123, viniciussk888, vinoh, ViserysIII, vitorcariri1, vmosquito, waaxer, waras, worthfivecents, xaouf, xkamor, yamanama, yoitsme23, yorsh86, zaibat, zerocool4949, Zetita, _kosha_79
We push multiple alpha versions to Curse on an average day, these versions may contain important new features or bug fixes for the bleeding edge raid content... These versions are tagged as alpha, so they will not be downloaded by default. Set your Curse client to update to alpha if you want these latest versions (but they may contain bugs, downloads tagged as "Beta" or "Release" are more stable)
I only subscribed about 2 days ago after coming back to WoW after 6 years. The game has changed so much since I left right around the Cata release. I decided to start fresh on a new server. I still had all my old links and logins to places like Curse, WowInterface, etc. Loaded up all the addons I had favorited years ago (of the maybe 1/3rd that were still maintained). Got to level 20 in a few hours of playing. Had to look a bunch of stuff up.