Leveling you character is very complicated process in world of warcraft. Many players need several month or even years to get to level 70. But what if you don't want to waste all your time playing wow so much but you still want to get to level 70 and be better than your wow friends or enemies? Than you should use special wow leveling guides which will help you to get to level 70 as fast as possible. That's why I picked up Zygor Guide so that I could maximize my efficiency while leveling, so that I can keep up with friends who have more time to play. In this article I will tell you more about this guide and its main features.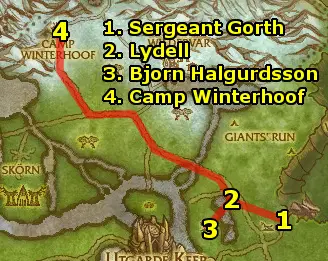 TSM v4.6.3 has been released! If you are running the TSM Desktop Application (and have TSM4 installed), you will be automatically updated momentarily. Otherwise, you can download directly from our site here: https://www.tradeskillmaster.com/install (or wait for it to show on CurseForge/Twitch – which may take a few hours). Changes * Added a new "baseitem" keyword which can be used as a price source paramater in custom prices (i.e. "dbmarket(baseitem)") * Made some optimizations to group-based Shopping scans to not scan items with invalid max prices * When posting via Shopping, you can now easily change the variation of the item being posted * Linking an item into shopping will now prompt you to sell that variant by default when posting * Multiline edit boxes will now scroll with the cursor to make it easier to edit large strings * Fixed a bunch of issues with relationships across operation settings * Fixed disenchanting rates for scaled items * Fixed an issue where WoW would freeze while using various TSM UIs * Fixed various issues with using the Banking UI to move items in and out of the guild bank * Fixed a bug with importing while "Moved already grouped items" was disabled * Fixed a bug where importing a list of items was creating a new "Imported Items" group * Fixed a few issues caused by the recently-mapped global prices * Fixed a minor typo in the tooltip settings UI Known Issues http://support.tradeskillmaster.com/display/KB/TSM4+Currently+Known+Issues read more
  • AeroVux, ahmedben, anduinlotharz, araknis, Baldurianus, biz6073, blardiarg, blueakamah64, boomstorm, chocosauce69, david1121k, DeathMonster, delgern, demi316, djcosmic2, dodolaum, dragorixvlad, exilirem, farik, Fobin, ghera, Gomias, greymouser67, guicyber, helix06, Homerrox, kecskesadam, Lesath666, liba123, longinart, Loryth, Lunitun, Lynarg, malawie, manovi, marcosprvcom, maskk, Maxranviir, melvus, Mengar, misiek1210, Muthiel, Naughtnes, NeoTeCa, noxmonk, NytemareRulez, oBarba, patou247, Pentragon, pipicar, PirateRabbids, prime, PrincessAv, Quastin, rafaelccc, Rokkalion, senwodota, SithiousCZ, sivribeyin, Skyhan, SkyKingVik, smose, Starby, sugartwig, Tiranzoide, venkat3056, versalies, walmorn, webprinz, xenir, zacstrix, zegro, zeininha, Zoo380, zslbd
REALM FORUMS Defias Brotherhood / Ravenholdt et al. Shattered Halls / Sunstrider et al. Twilight's Hammer / Agamaggan et al. Aerie Peak / Bronzebeard Aggra / Grim Batol Aggramar / Hellscream Al'Akir / Skullcrusher / Xavius Alonsus / Anachronos / Kul Tiras Arathor / Hellfire Argent Dawn Aszune / Shadowsong Auchindoun / Dunemaul / Jaedenar Azjol-Nerub / Quel'Thalas Azuremyst / Stormrage Blade's Edge / Eonar / Vek'nilash Bladefist / Frostwhisper / Zenedar Bloodfeather / Burning Steppes / Executus / Kor'gall / Shattered Hand Bloodhoof / Khadgar Bronze Dragonflight / Nordrassil Burning Blade / Drak'thul Burning Legion Chamber of Aspects Darkmoon Faire / Earthen Ring Darksorrow / Genjuros / Neptulon Darkspear / Saurfang / Terokkar Doomhammer / Turalyon Draenor Dragonblight / Ghostlands Dragonmaw / Haomarush / Spinebreaker / Stormreaver / Vashj Emerald Dream / Terenas Frostmane Kazzak Kilrogg / Nagrand / Runetotem Lightbringer / Mazrigos Magtheridon Moonglade / Steamwheedle Cartel / The Sha'tar Outland Ragnaros Ravencrest Silvermoon Stormscale Sylvanas Tarren Mill / Dentarg The Maelstrom / Deathwing / Karazhan / Lightning's Blade Thunderhorn / Wildhammer Twisting Nether
I've hit level 65 recently and have noticed my leveling speed drop really fast, I knew this would happen but I'm just looking for ways to become a little more efficient with questing. Right now I'm zipping all over the place without much idea on what to do first. Would this ruin the gaming experience though? (I'm still planning on reading all the quests for story). Or is there any alternatives with a lower price tag?. Also is Zygor guides actually any good? And lastly, (sorry for all the questions) is using it going against WoW rules?
Anyway I will go ahead & download the Twitch app like everyone's saying, but I still need to know whether my in-game addon settings will carry over automatically, or whether they'd return to default same as if they'd all been uninstalled in the curse client then reinstalled from scratch. Because if it's the latter then I will have to take screenshots of the settings on all my toons BEFORE I install the addons thru the Twitch client.
But the thing about the waypoint is that it's not always accurate. It happened when I was carrying out the Inoculation quest in which I had to kill infected owlkins and collect the emitter spare parts from the crashed ship in the Nestlewood Thicket and Nestlewood Hills. After I managed to kill owlkins, there was a particular spot in the area where the arrow turned green, telling me that a spare part was right there.
A handful of us donated to Whoknowsit to so he could buy ALL the upgraded guides for MoP for all of us. That was an investment into THIS community not into torrents or into any other. We want it to remain safe for us to continue to use. Whoknowsit is smart enough to know what to look for to take out Zygors' tracking info, but he knows he is NOT perfect. That is why he is STILL careful.
That's where the Zygor guide came in handy. There was a mini Zygor viewer within the game that broke down the steps in the quest so I'd be able to accomplish it easier. Do you notice the yellow arrow at the top of the heads of Norciandra and the draenei Proenitus? Well, it's the "waypoint" and whenever I clicked on the quest in the viewer, it pointed me to a particular path and showed how far or close I was to the quest. It turned green whenever I was on the right track and yellow when I tried to head to different directions.
If you are looking for some solid information on fast leveling in wow and you want to plunk down the dollars, you should take a look at Zygor Guide. One of the first great features you notice is that this guide is available for both Alliance and Horde while other guides are horde or alliance only. That's why Zygor Guide sets itself apart from the crowd. The absolute best part of the guide is the map add-on. Once you have loaded up the mapmod, it makes it very easy to follow along with Zygor Guides in a step-by-step fashion. You won't need to press alt+tab aveytime you need to find your next step or coordinate. Everything is inside your game.
You can tell the gold guide users on the AH though. When you are posting things up, if you are the only one and you put it up for say 1000g. Next time you go to post it might tell you to put it up for 1050g, then 1100g. Then 1200g. etc, ad naseum. It doesn't stay the stay it keeps adding the price till it is WAY out of whack with anything reasonable. Still it's pretty good for posting up stuff so long as you know the price already.
But the thing about the waypoint is that it's not always accurate. It happened when I was carrying out the Inoculation quest in which I had to kill infected owlkins and collect the emitter spare parts from the crashed ship in the Nestlewood Thicket and Nestlewood Hills. After I managed to kill owlkins, there was a particular spot in the area where the arrow turned green, telling me that a spare part was right there.
I recently decided the whole "make gold" thing is awesome...but I can't seem to wrap my head around what makes a good deal and what doesn't. After trying my hand at a few auctions I decided to do the zygor guides for leveling and rep and everything that's included (pretty cool so far...but if there's a free option I'd like to have that). Well they have a goldmaking guide. It updates data like TSM and tells you what is supposed to be the best deals to farm or whatever...well the best deal it was telling me was 8800 volatile fires. It was supposed to be an amazing deal but come on....8800 volatile fires?
When you installed Zygor Guides Free Trial, quite a number of entry & files were created in the Windows Registry (What is Windows Registry) and hard drive, while running the default uninstaller always failed to remove all these data, it leaves us to manually track down and delete the leftovers inside the computer. This is an optional step, you can skip it and call it a day, but if you keep ignoring this every time you uninstall a program, your computer registry may become overloaded as such useless data accumulating, thus lead to system slowing down. Though it is optional, it is still recommended to do it as a good practice of using your computer.
Well. LFG is designed to replace blizzard's premade groups entirely just like custom raid frame addons (like grid, grid2, healbot) did towards blizzard's compact raid addon. We can actually do little customization towards Blizzard's UI unless we write our own "UI". Instead, just use LFG to create/search groups instead of blizzard's UI since it sucks.
  • acheos, acid, Addam, adss, aeitschbi, Aksu94, Alexxsander25, almigimenes, Anatsuki, andrej.adamik, andrew120910, Aniyadrra, Apu, ara, asdanonymous, asg092, Atics, baalzebuv, badboi, Bluespide, bobthegr8, bombguy187, buraja, c4risim, cedrickgagne, cedroa, CIIC, cloverklee, contacttom, cortez001, cresas, crewel, Cruucy, CypherShot, davidarius, Decones, dedesilvaeq, Demon42, DerVani, Devilsenforcer, dipen787, Dmgctrl, Don, Drakkz, dreamzdot, Drethak, DrWhite, Duhkie, eal3nd1, edwinvgs, edwoolley, enrique15877, errorfree, evasiv3, fekke, fl1x, FloobyDooby, freakzilla317, frogger79, Geimerys, geneu88, GeremiTM, gingerbabydoll, GongasHeat, Gordma, Gr0ge0, gr3nka, grakev2348294, gth733r, hakanaxu, Helsvinir, higashidani, hightower, ibsneekaboo, idontcare, ijsleu, ilsa1939, Immewnity, jacobinajanks, Jazzur, Jnic290, joezeph, jotapts, julianobsi, ka11, kakus666, kazefaze, kecskesadam, kellica, kiddo3301, klices, konfuzu, kub4rm4n, Lawliet016, leozin993, lilweew, lodwallo, londolo, LordRyborg, LordYazz, lotharam, Lout1948, luiz, manuelpeh, masky007, matheus22600, maxespencer, Messerwurm, messycan, Metatronn, Metosz, micados, Mikirex, mivitec, mopio, Moslake, MrBrego, MrGreen030, MrKudden, Muthiel, mystere8618, narki, NeKonGrio, NerdyTimes, nextrin, nicollassantos, nikos2021, Ninaveve, nonloser1995, numbel, Nyaification, padfoot, paganmomma70, painkill10, PaulioG, petyike11, pler, preylor, Prohormon, psa90, pugglypiff, r3zk, Rando123, rawrapp, raymond13004, rayzimbr, Reloecc, revsoldest, Riddok, rinconvaldivia, rmichnik, robinwaerts, RusticCowboy7, Ryoog, Ryuu, sal101, salemov, selomelo7, shadowskull28, Shaxey, sidorlord, Skiera, skincreeper, skrzypi, snide, Sonick, Splatlack, Spotty, sundbom93, Surfy_D, Tarkinug, Tauglorin, Tex1966, TheBeeMan, Tillec, tiozaum, titotof, tonkepen, tooleyinhd, Topper1703, TotalCool, toxotis, Twenkye, twirler, TwoDragons, Tycandus, unpi, Vanetrik, vas99, viggo123, viniciussk888, vinoh, ViserysIII, vitorcariri1, vmosquito, waaxer, waras, worthfivecents, xaouf, xkamor, yamanama, yoitsme23, yorsh86, zaibat, zerocool4949, Zetita, _kosha_79
Professions skills are split between expansions now, you'll have a separate skill bar for each expansion. There are still 950 profession levels in total, just that there is no one single progress bar with 1 to 950 for it anymore. Instead, there are 8 separate progress bars. (The only exception is Archaeology, because it will still have a 1-950 progress bar)
The best part about the guides, though, is that you won't be sidetracked by various other quests. For example, if you're a dwarf questing through Eastern Kingdoms & get that random quest that takes you to Feralas, Zygor will keep you on track by putting that Feralas quest on the back burner while you keep chugging through the main storyline in Eastern Kingdoms. 

It showed what items were on the rise, which ones were stagnant, and which ones were going down. I don't know how accurate it is since I am not familiar with my realms AH yet. I put some things on the AH with the Zygor suggested price and sold about 5k worth of stuff (I had a ton of MoP gems/herbs sitting around). I did use TSM suggestions as well and for the most part they seemed pretty close. But I did do an AH scan with Zygor before posting.
Now if there was a quest chain that I found to be a lot of work, it was The Prophecy of Akida. In those series of quests, I had to learn the language of the Stillpine furbolgs to help them reclaim Stillpine Hold. To complete the quest, I had to find four totems (Totem of Coo, Totem of Tikti, Totem of Yor and Totem of Vark) located in different parts of Azuremyst Isle. Along the way I encountered a lot of aggressive NPC's. At one point, I was even simultaneously attacked by at least three of them. Needless to say, it was the second time I died in the game.
The next biggest  problem (after time) is deciding the format it should take.  It seems to me, these quests will mostly be done while running around doing world quests.  Since we can't  predict what order someone will have world quests show up in, it is impossible to decide what order to put the quests in.  Should it be one guide for all of Horde Kul Tiras and one for Alliance Zandalar, or one for each zone?